About Us

Universal Water Chemicals (P) Ltd. is a reliable manufacturer and supplier of water & waste water treatment chemicals & plants such as Boiler Chemicals, Cooling Tower Chemicals, Descaling Chemicals, AHU Cleaning Chemicals, RO Chemicals and Sand & Carbon Filters. The customers can also buy MS FRP Softeners, Ultra Filtration Plants, ETP Plants, STP Plants, etc. from us. Our firm is also working as a service provider rendering solutions like Boiler Descaling Service, Chiller Descaling Service, Condenser Descaling Service, Cooling Tower Descaling Service, Heat Exchanger Cleaning Service and many more.

Directors of The Company

The company was founded in 2006 as an intention to serve as a single stop where customers will be benefited with diverse products like water treating plants and boiler chemicals. Mr. Ramesh Nalachervu is the Managing Director of this progressive and sky-touching company. Accompanying him in making company serve for a longer duration of time and earn accolades is Mr. Anil Kumar Padakanti, Director - Sales & Service and Mr. Srinivas Durgam, Director Marketing. Together as one team, they are promoting company's goodwill.

Our Services

Bulleted below are a few services we render in the Indian market:
Boiler Descaling Service
Chiller Descaling Service
Condenser Descaling Service
Cooling Tower Descaling Service
Heat Exchanger Cleaning Service
Resin Cleaning Service
RO Plant Service
Softener Plant Service
ETP Plant Service
STP Plant Service
HVAC Service

Infrastructure

Our company is holding good status in the growing Indian Industry by meeting customers needs of bulk products. Our good status in the industry is a result of our modern production house in Hyderabad. Hi-end machines are installed in the workspace,which help us produce diverse products on time.

Quality Assurance

A proud holder of ISO 9001:2015 certificate, Universal Water Chemicals (P) Ltd. makes best use of resources to make quality products like Cooling Tower Chemicals, RO Chemicals and Waste Water Treatment Plants. Our flawless products make every customer's invested money gives excellent results. On all grounds of performance, our entire ambit of chemicals and plants is checked thoroughly.

Team Work

Quality work takes time but not when a skilled, talented and knowledge team of professionals are doing the working. At our company, quality work accomplishment doesn't take time as we have a qualified team of experts who hold good knowledge and experience in the industry. Dexterous employees are working in departments like production and warehousing. Making production work easy are chemical experts, service engineers, quality controllers, etc. Every professional is given training, which boost both skills and knowledge.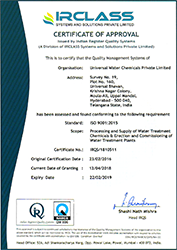 Read More